Trees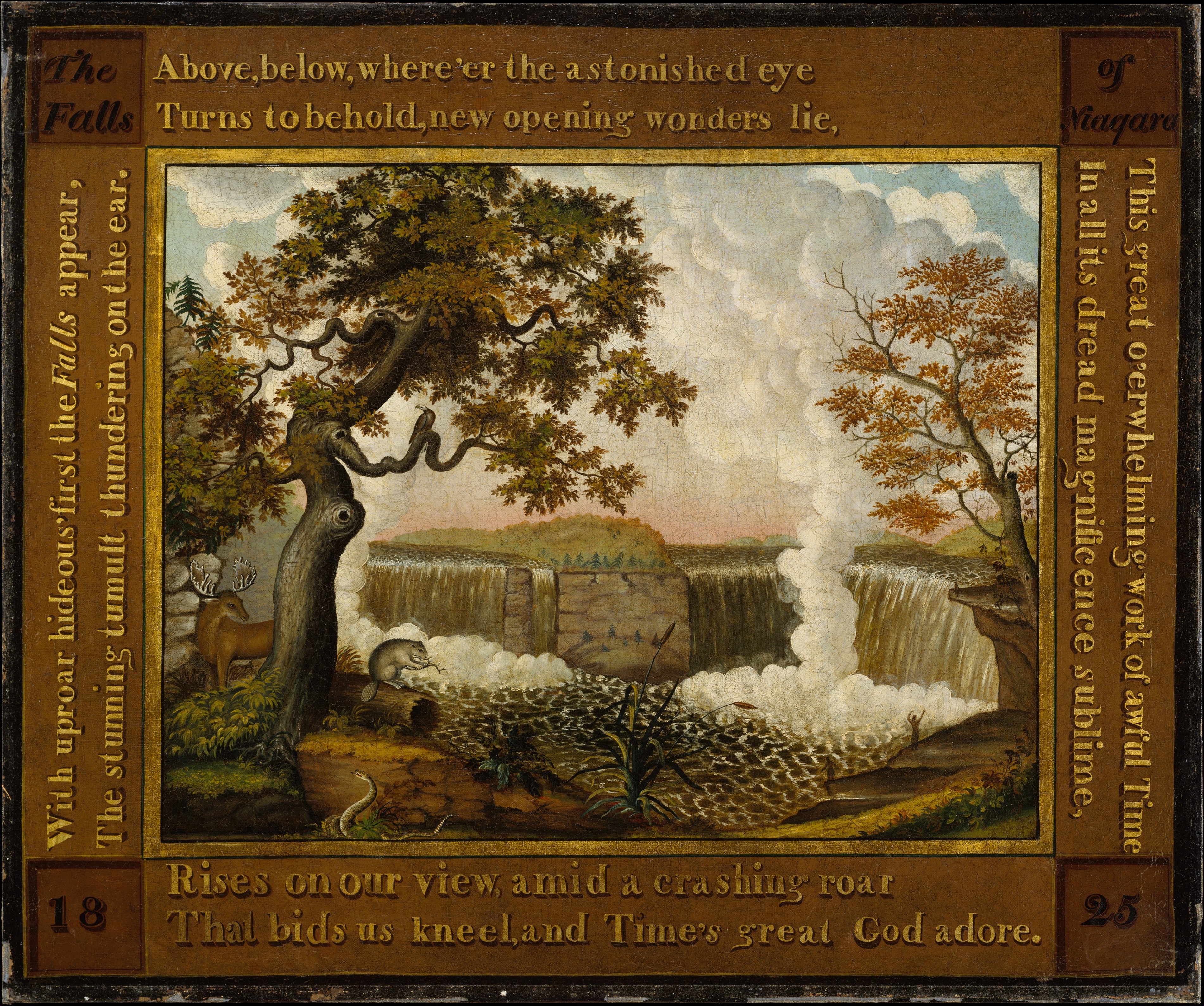 Trees are a ubiquitous feature of the natural world, and have been the subject of art and myth since time immemorial. In The Metropolitan Museum, there are many artworks that depict trees, some of which date back thousands of years. These artworks provide a window into how different cultures have viewed and interacted with trees over time.
The Falls of Niagara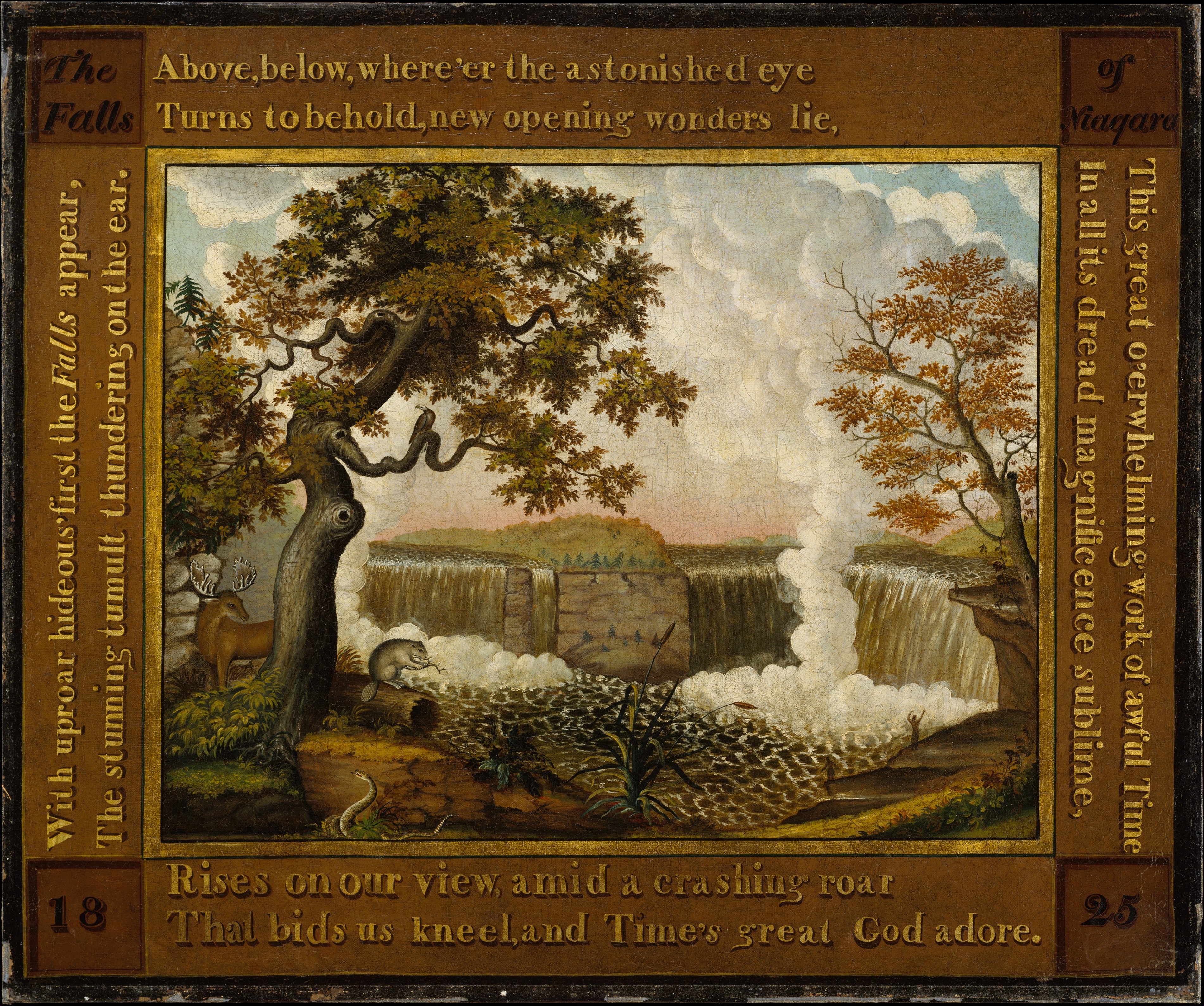 The painting is of Niagara Falls from the Canadian side.
The painting is based on a vignette of the falls from a map of North America published by Henry S. Tanner in 1822.
Trees and Houses Near the Jas de Bouffan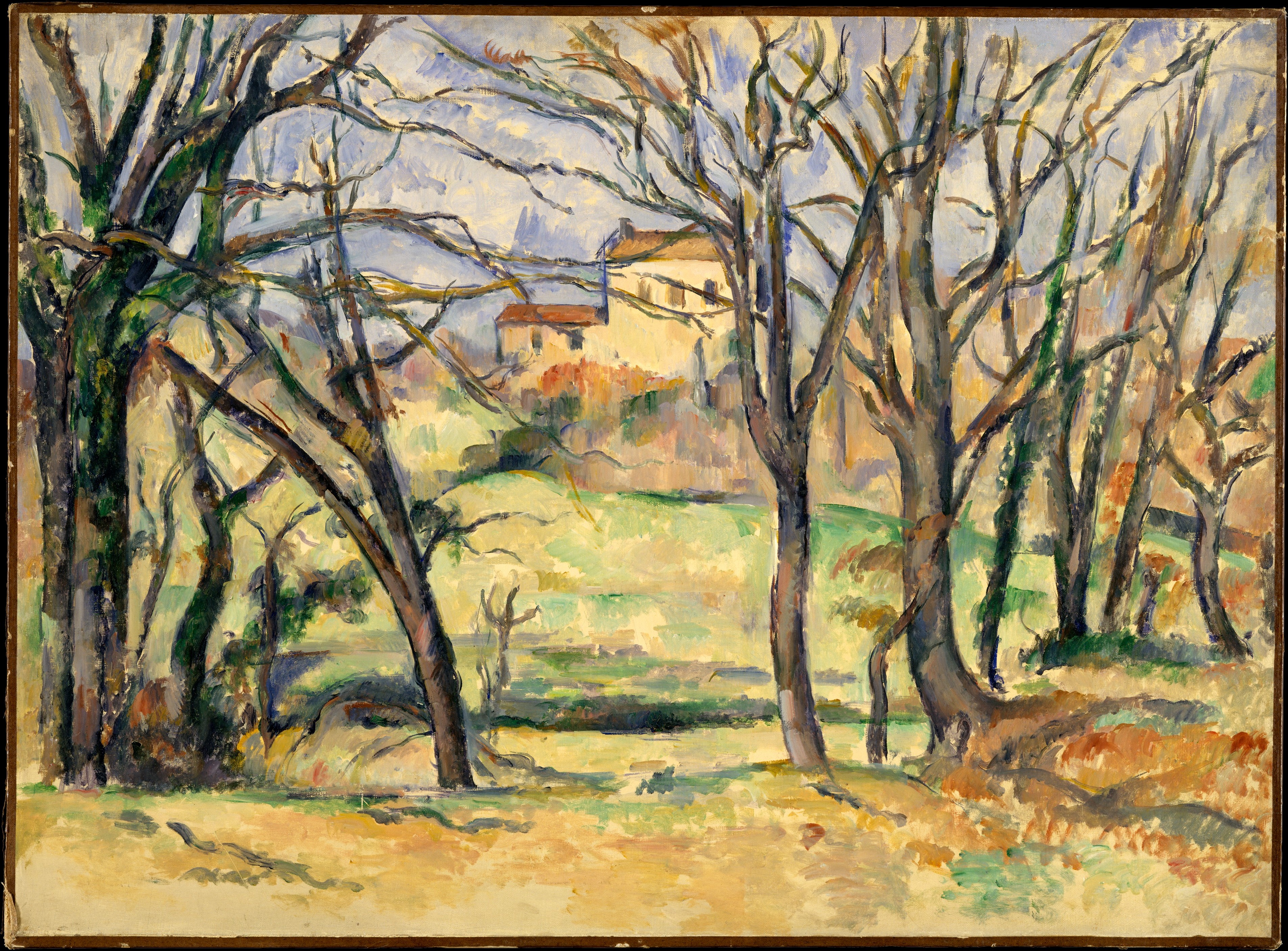 Paul Cezanne is rightly remembered for his important contribution to the rise of Modernism in the twentieth century.
His paintings introduced a novel visual language of form, perspective, and structure, challenging age-old conventions in the formal arrangement of a picture.
"Trees and Houses near the Jas de Bouffan" was painted "sur le motif," directly from nature, its view taken south of the Jas de Bouffan, the Cezanne family residence near Aix-en-Provence.
Cezanne treats his subject with great economy:his brush marks are lean and articulated, his palette of yellows and greens is relatively simple, and areas of the canvas are unbrushed, exposing ground in patches that read as color.
All his life, Cezanne played with spatial relationships in nature, whether working from life or from memory.
Here the bare, attenuated trees appear as a frieze against the zones of recessive color, applied as though watercolor, not oil, were the medium.
"'Umar Walks around Fulad Castle, Meets a Foot Soldier and Kicks Him to the Ground", Folio from a Hamzanama (The Adventures of Hamza)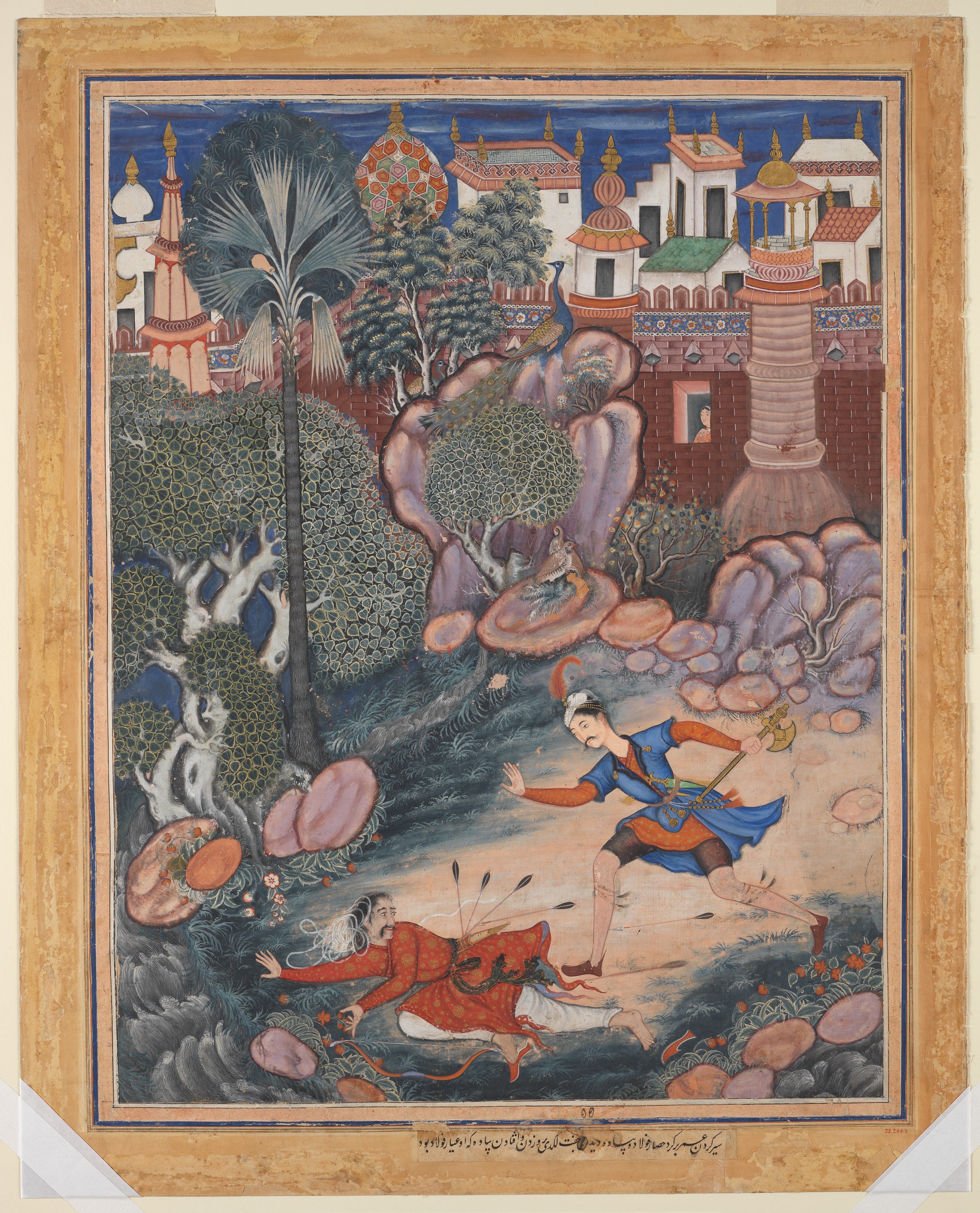 The Hamzanama recounts the fable of Hamza, an uncle of the Prophet Muhammad who was a legendary defender of the faith.
This painting illustrates an episode involving 'Umar, a spy loyal to Hamza, who learns of a secret tunnel into Fulad castle from the soldier whom he has bested.
It comes from a multivolume, large-scale copy of the text made for the emperor Akbar that took approximately fifteen years to complete.
Unlike most books, its paintings were probably meant to be held up for an audience while a storyteller recited the text.
The Forest at Pontaubert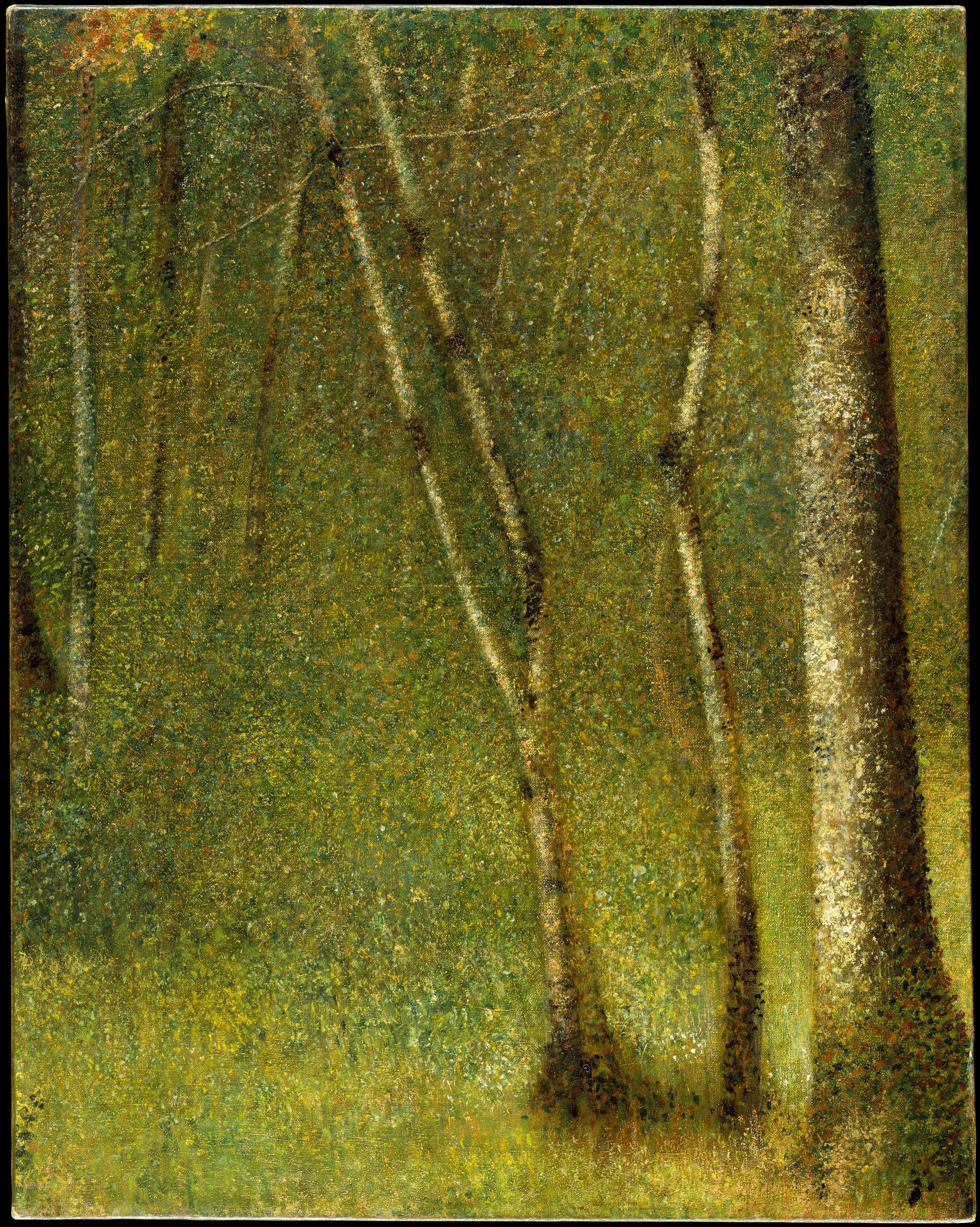 Seurat spent two months in the late summer and early fall of 1881 in Pontaubert, a village southeast of Paris once frequented by Daubigny, Corot, and other Barbizon landscape painters.
His visit inspired this sous-bois or forest glade, which Seurat probably completed that winter in the studio he shared with his traveling companion and fellow artist Aman-Jean.
With its concert of greens, its subtle, shimmering light effects, and its vertical pattern of tree trunks, this work anticipates the verdant settings of Seurat's monumental Bathers at Asnières in London (1884) and A Sunday on La Grande Jatte in Chicago (1884 - 86).
Woodland Scene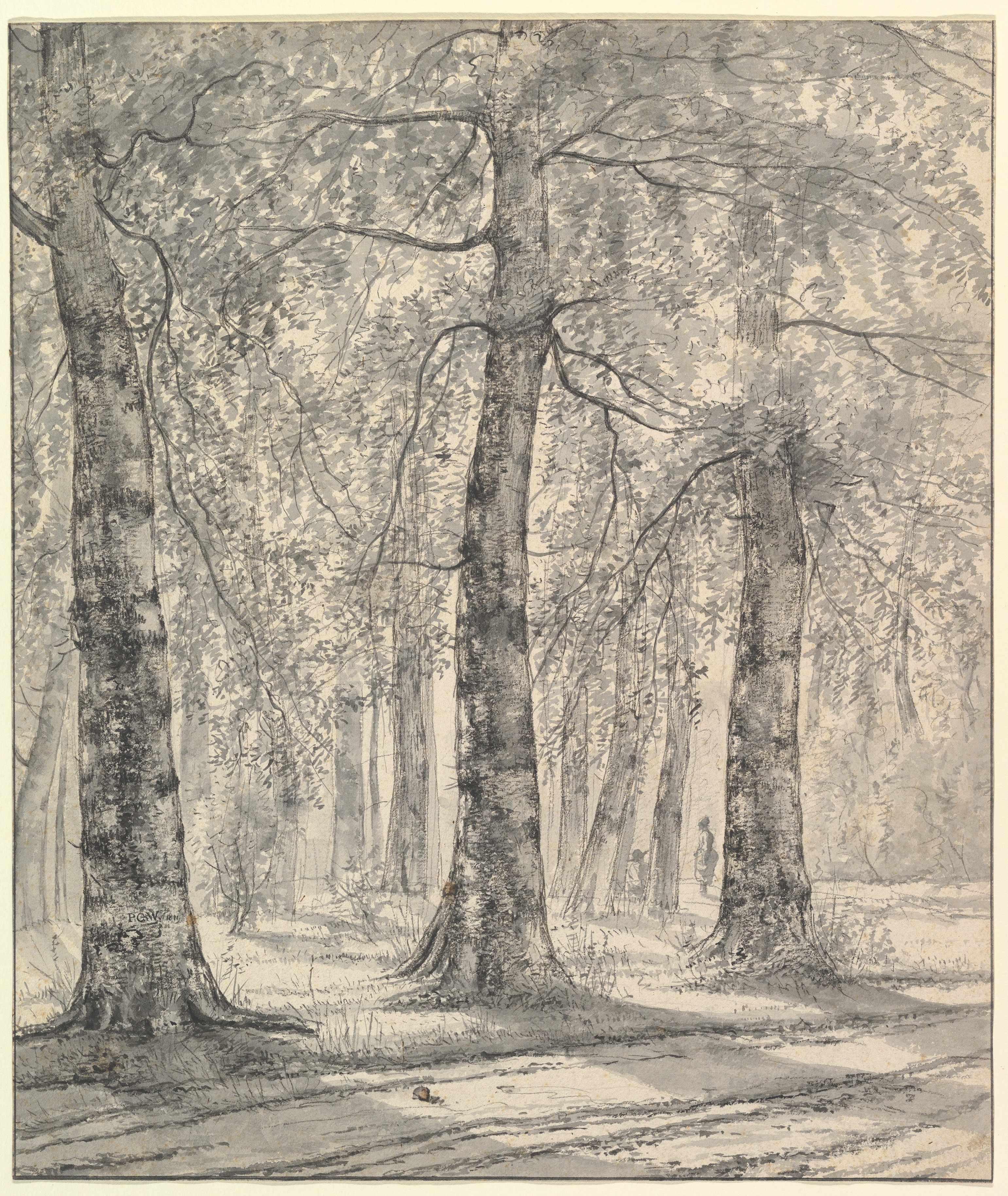 The painting depicts a forest with sunlight filtering through the trees.
The painting is unusual for the artist, who is better known for his views of Dutch city streets and interiors.
The painting was likely originally sketched in black chalk out in nature and then completed in the studio.
A Man Leaning on a Parapet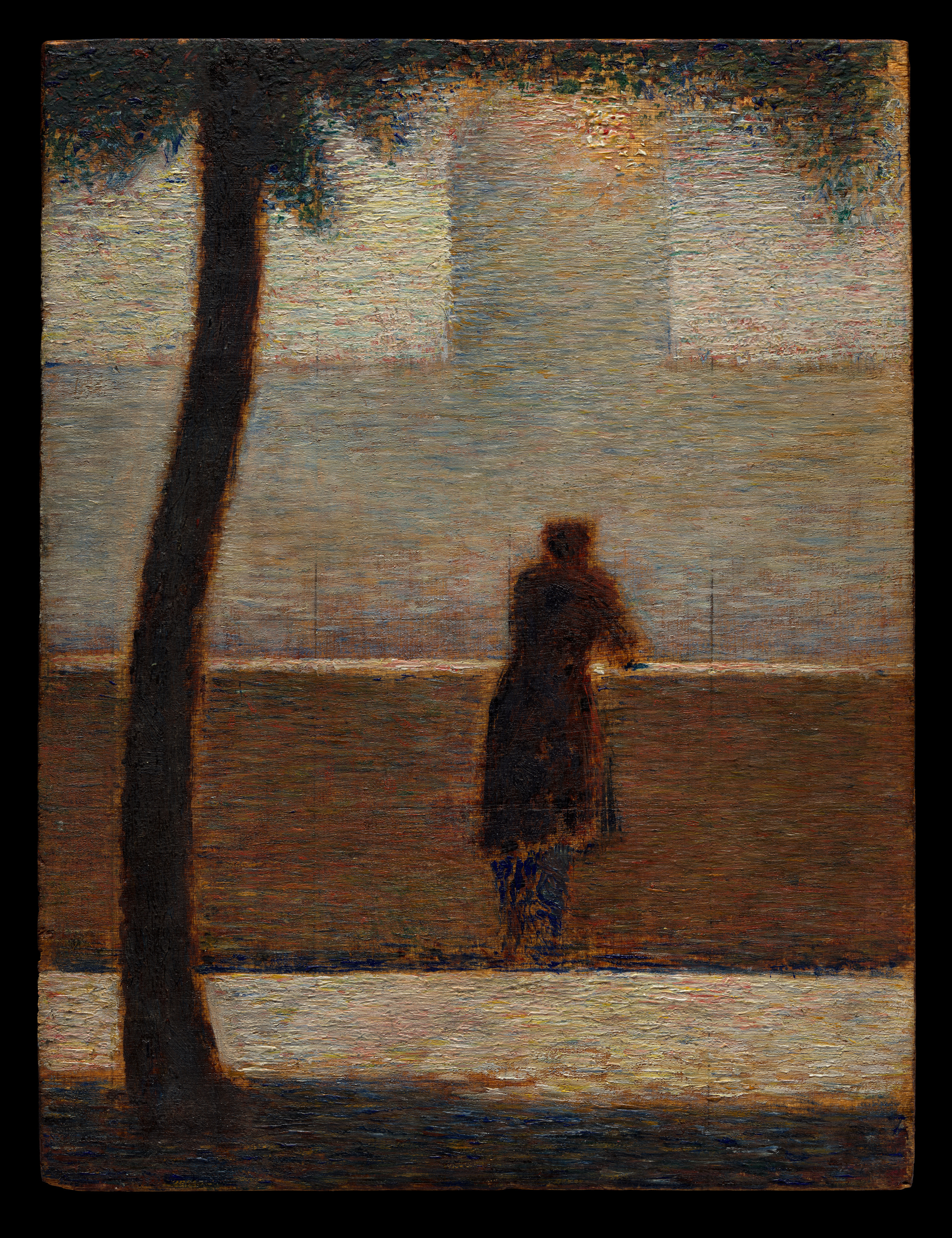 This painting was one of the artist's earliest works, and it relates to pictures he made about 1880-81 that show single figures absorbed in thought or engaged in labor.
The composition reveals his incipient talent for carefully calibrated light effects, bold silhouettes, and flat, geometric forms.
Just visible through the leaves is the dome of the Institut de France, across the Seine from the Louvre in Paris.
Allée of Chestnut Trees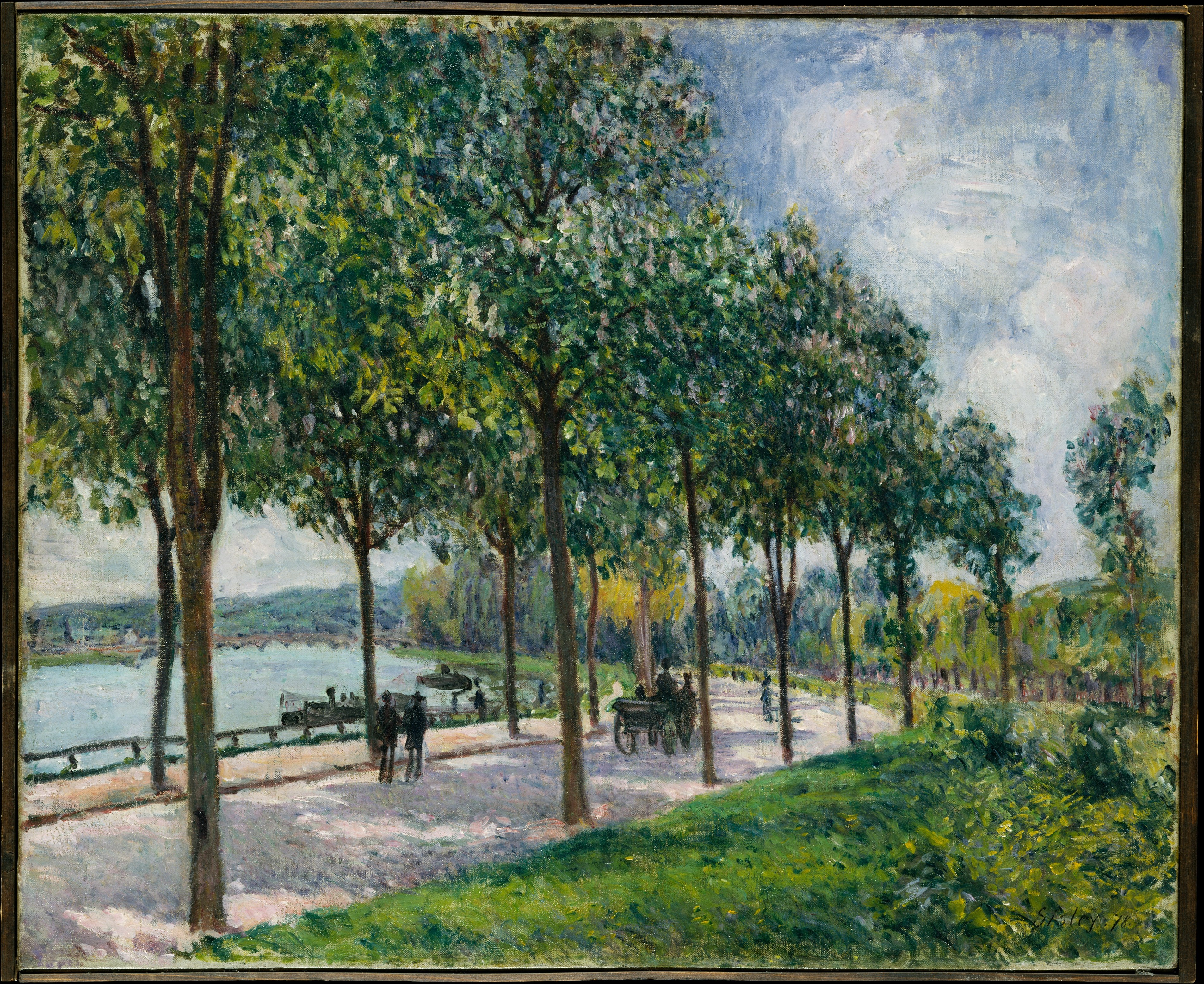 In the 1860's, Sisley met Pissarro, Monet, Bazille, and Renoir, with whom he brought forth the practice of painting directly from nature.
Sisley enjoyed short-lived but considerable success during the 1870's.
Sisley painted this view of a curved pathway lined with chestnut trees in full bloom.
Reciting Poetry in a Garden