5 Pop Art Pieces By Andy Warhol You Can See Everywhere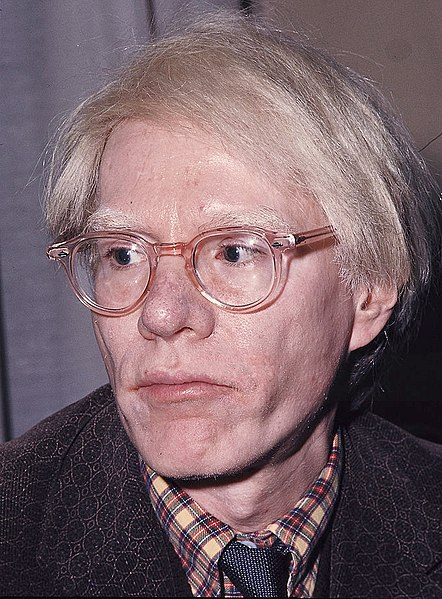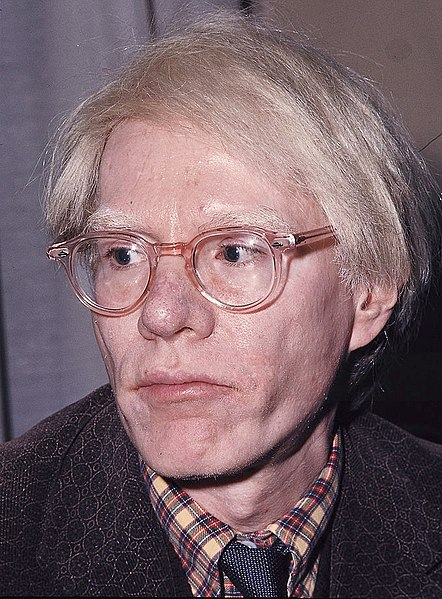 Andy Warhol was an American artist who was a leading figure in the visual art movement known as pop art. His works explore the relationship between artistic expression, celebrity culture, and advertising that flourished by the 1960s. His best known works include the silkscreen paintings Campbell's Soup Cans (1962) and Marilyn Diptych (1962), the experimental film Chelsea Girls (1966), and the multimedia events known as the Exploding Plastic Inevitable (1966–67).
The Andy Warhol Museum in Pittsburgh, Pennsylvania, holds an extensive permanent collection of art and archives. The museum is the largest in the United States dedicated to a single artist. Warhol's creations are very collectible and highly valuable; the highest price ever paid for a Warhol painting is US$105 million for a 1963 canvas titled Silver Car Crash (Double Disaster).
Warhol's parents were Lemko emigrants from Mikó, in today's northeastern Slovakia. His father emigrated to the United States in 1914, and his mother joined him in 1921, after the death of Warhol's grandparents. Warhol's father worked in a coal mine. The family lived at 55 Beelen Street and later at 3252 Dawson Street in the Oakland neighborhood of Pittsburgh. The family was Ruthenian Catholic and attended St. John Chrysostom Byzantine Catholic Church. Andy Warhol had two older brothers—Pavol (Paul), the oldest, was born before the family emigrated; Ján was born in Pittsburgh. Pavol's son, James Warhola, became a successful children's book illustrator.
---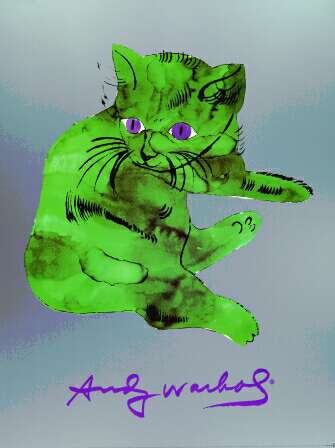 A Cat Named Sam, 1954
Aside from an obsession with celebrity and consumer culture, Warhol also had a love for cats which is seen through his artwork. Warhol worked as a freelance commercial and children's book illustrator before he made it as an artist. He lived in an apartment on East 57th Street with his mother Julia Warhola and 25 cats who all shared the same name. In 1954, he published a children's book called 25 Cats Name (sic) Sam and One Blue Pussy where he produced 16 lithographs that were accompanied by his mother's exquisite calligraphy. The original book is extremely rare, but the prints have survived and are each unique, having been hand-coloured by Warhol or his friends. These are some of the earliest works by Warhol on the market today and they offer a rare insight into his playful outlook and talent for colour.
The cats in the series vary in color from fuchsia pink to bright yellow, with the most famous feline from the series being a bright yellow. Other colors in the series include elegant brick red, tabby, and the One Blue Pussy of the title, known here as Sam 68. With this rainbow menagerie Warhol appears to be testing the possibilities of combining the simple and elegant lines of his sketches with the bright blocks of color that could be added after the process of making the lithograph. With works such as Sam 66 we can see how the color is often laid over the lines to create an offset effect. Warhol would exploit this technique further when he turned his hand to screen printing.
---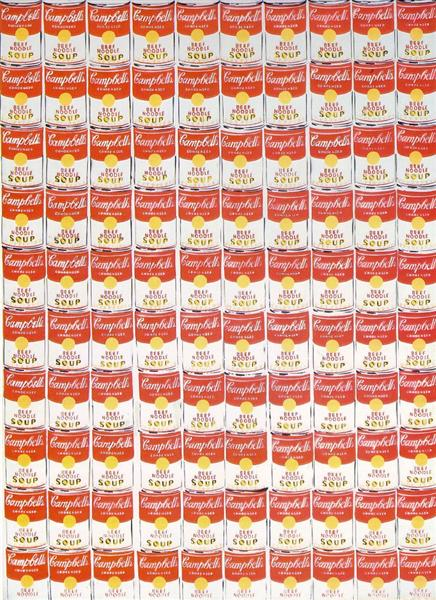 100 Cans, 1962
This work is one of many he made with images from commercial culture, celebrating the simple motifs and appealingly bright colors of advertising. Warhol's paintings of soup cans, the canned Del Monte Peach Halves his mother used to give him as a child, Brillo, and Coca-Cola are all responses to mass media and the idea of a person's image as a commercial brand.
One reason Warhol chose the Campbell's Soup Can motif was because it was such a ubiquitous part of American life. He was well aware that these soup cans filled the supermarket shelves and home cupboards across America. He displayed his single can paintings as a repeat series to reflect this mass produced nature of the item. By bringing such logos and motifs from normal life into his paintings and screen-prints, Warhol also wanted to break down the boundaries between art and life, showing that normal experiences should be included on gallery walls, and that art should be accessible to everyone. He said, "I don't think art should be only for the select few. I think it should be for the mass of the American people."
---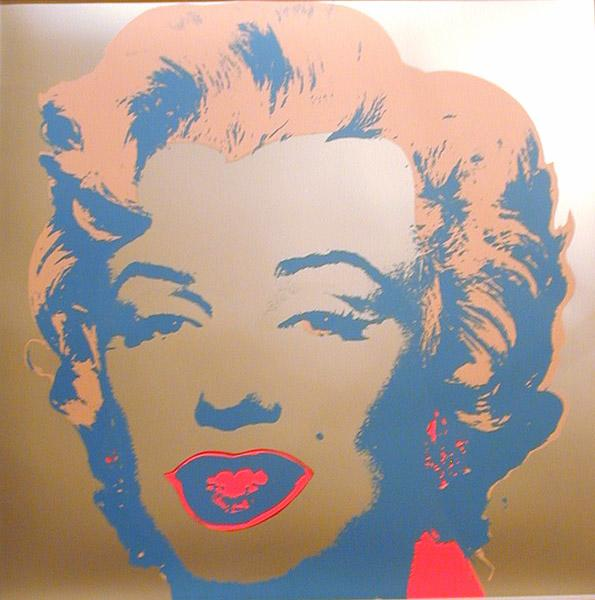 Marilyn Monroe, 1968
In 1967, Warhol set up a print-publishing business, Factory Additions, through which he published a series of screenprint portfolios on his signature subjects. Marilyn Monroe was the first one. He used the same publicity still of the actress that he had previously used for dozens of paintings. Each image here was printed from five screens: one that carried the photographic image and four for different areas of color, sometimes printed off-register. About repetitions Warhol said, "The more you look at the same exact thing, the more the meaning goes away, and the better and emptier you feel."
Warhol created his Marilyn Monroe diptych by painting the canvas in different colors before he screened the now-famous image of Marilyn on top of the canvas. The misregistration of the screen-print and painting resulted in a dynamic surface that he then enhanced using a spectrum of colors. This act of printing and painting in several variations allowed Warhol to play and explore the range of graphic possibilities that that single image of Marilyn could produce. Warhol demonstrated his extraordinary use of color by adding day-glow colors and metallic paints that were not commonly found in contemporary art, which further helped it stand out.
---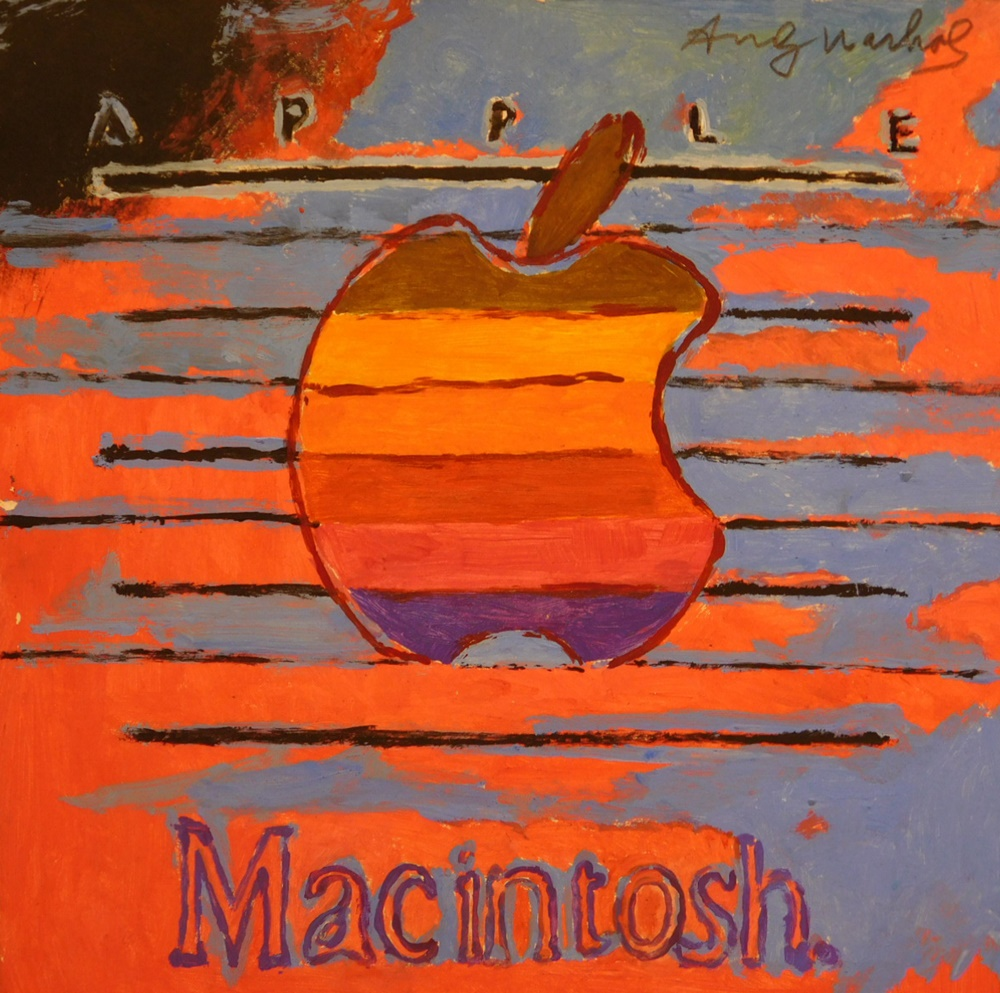 Apple, 1985
This artwork, which was created circa 1985, is estimated to be sold for $30,000 at Woodshed Art Auctions in Franklin, Massachusetts. It is likely to be appealing to both Warhol and Mac enthusiasts. Bruce Wood, the Woodshed auctioneer, told artnet News that "Warhol's work appears effortless, but the discovery of working color studies like the Apple Macintosh painting reveals that each finished image is the refinement of trials and experimentation. In a way, this reflects the growth of the products he's chosen to depict."
The painting is said to be part of Warhol's "Ads" series from 1985, a year after the original Macintosh launched, according to the blog MacRumors. The site notes that the picture shows Apple's rainbow logo, which the company used between 1977 and 1998.
---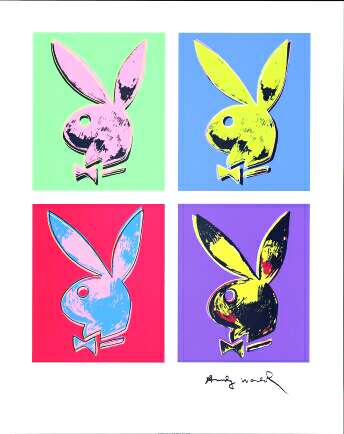 Bunny Multiple, 1985
This is a serigraph print of Bunny Multiple, an iconic work by Pop artist Andy Warhol, signed by the artist in the lower right. The print is a quadriptych, meaning it is divided into four sections, each depicting the bunny logo for Playboy magazine in a different color palette. The work is marked under the mat "Special Editions Limited 1990" and is presented in a black wooden frame with a custom cut multi-window blue mat. There is a hanging wire mounted to the back.
---