Do you think these are photographs? 7 pieces of Hyperrealism artwork.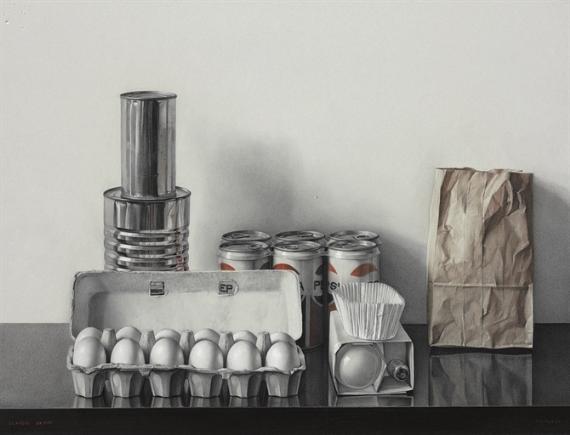 The difference between photos and paintings is obvious, but there are people who break this theorem and paint paintings that rival photos. The peak of artistic skills is amazing. These people are called hyper-realistic painters.
Hyperrealism is a genre of painting and sculpture that resembles a high-resolution photograph. The term is primarily applied to an independent art movement and art style in the United States and Europe that has developed since the early 1970s. Carole Feuerman is the forerunner in the hyperrealism movement along with Duane Hanson and John De Andrea.
This article will introduce seven hyperrealism paintings by Antonio Lopez Garcia.
Antonio López García is a Spanish painter and sculptor known for his realistic style. His work has been praised by some art critics, such as Robert Hughes, who considered him "the greatest realist artist alive" in 1986. Some art critics have criticized him for neo-academism, but others have praised him. His style has been deemed hyper-realistic by some. The film El Sol del Membrillo, by Victor Erice, was based on his painting in 1992.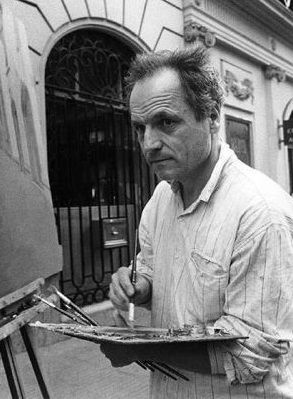 1. Gran Via De Agosto
This piece is a landscape/cityscape because of the dimensions and the viewpoint. The image looks like a high-resolution photograph, making it a hyper-realism piece.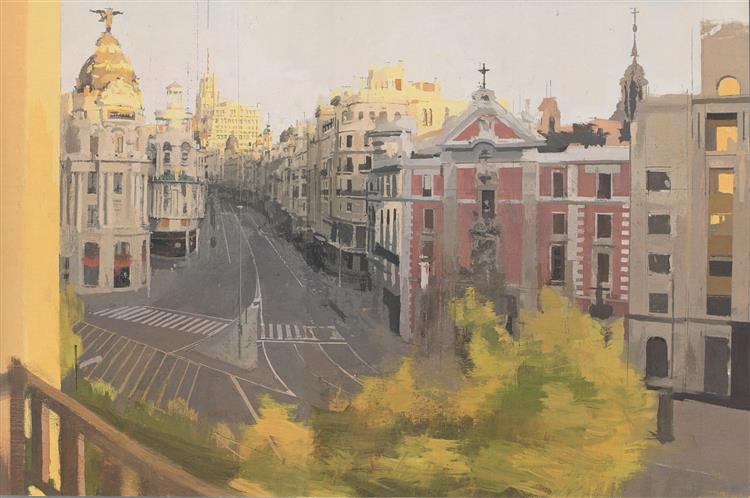 2. Conejo Deshollado
Conejo Desollado (Skinned Rabbit) (1972) is a small painting of a skinned rabbit lying in a fetal position on a glass plate. Its resemblance to an infant is uncanny and alarming, while the artist's refusal to either blink or soften what he sees is astonishing. One literally senses the wetness of the rabbit's exposed flesh, the milky liquid filling its clouded eye. For López García, being truthful to what he sees amounts to embracing what he knows to be true: time is devastating and unquenchable, and it devours us all. In the face of this awareness, his detachment is comparable to Jasper Johns's reserve. Both López García and Johns focus on things that are anonymous and specific—Skinned Rabbit and Painted Bronze (Savarin Can with Brushes) (1960)—and they are insistently pragmatic as they gaze upon the ordinary facts of irrevocable change.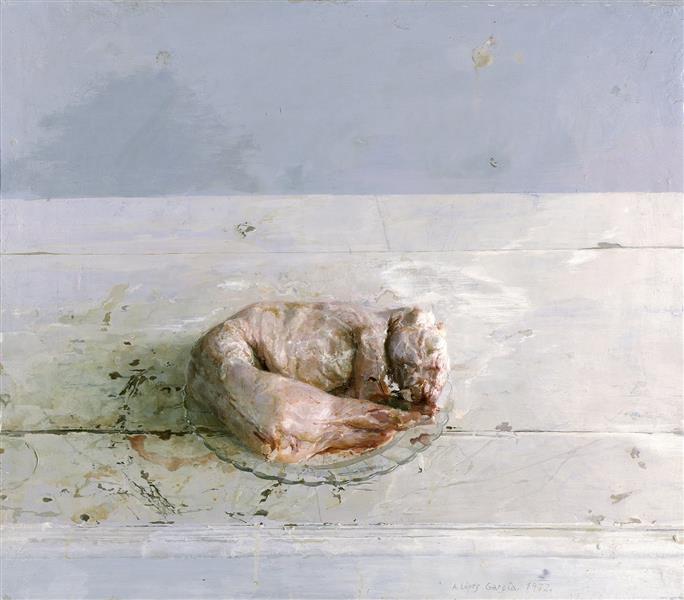 3. Woman (the Dream)
The painting 'Woman (the Dream)' by Antonio Lopez Garcia is a work of art in the Magic Realism style, created in 1964. You can find more prominent pieces by the artist on Wikiart.org, the largest online database of visual art.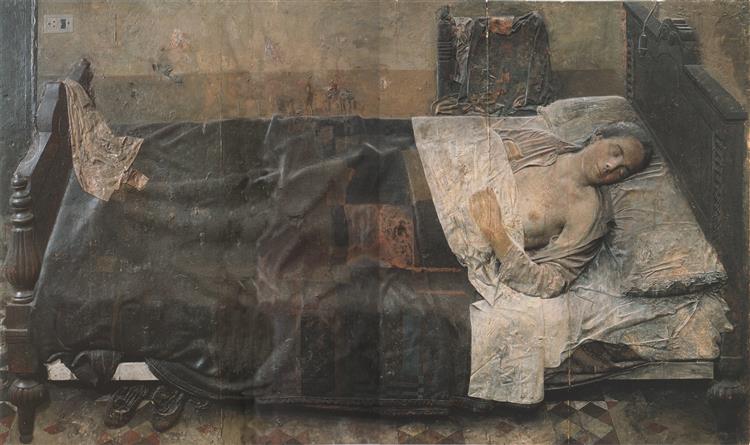 4. Atocha
The train station at Atocha holds a special place in Antonio López García's memory. He first entered Madrid as a teenager through this train station, on his way to prepare for the entrance exams at the San Fernando Royal Academy of Fine Arts. López García's depiction of this transitional space, with its nearly impressionistic, cold atmosphere, evokes a sense of nostalgia. But this scene vacillates between memory and surreal dream, as a man and woman copulate on the cold floor, disrupting-even opposing-the quiet streets of Atocha in the early morning.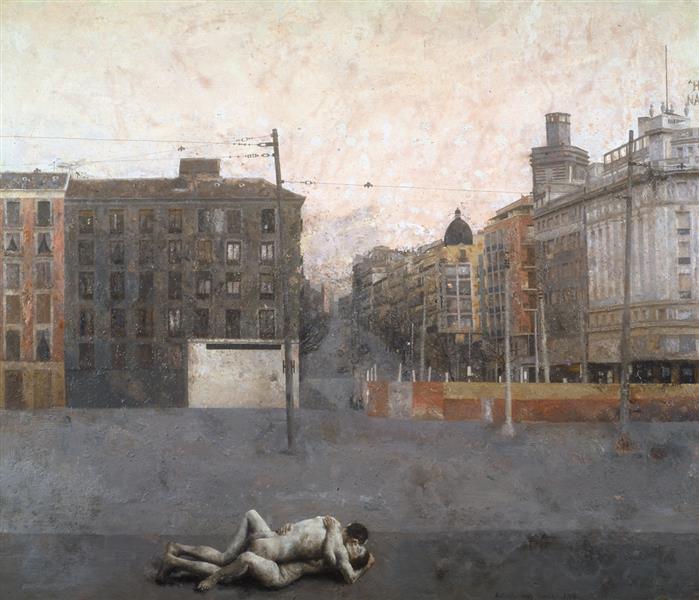 5. The Table
The Table was created in 1980 by Antonio Lopez Garcia. It is a piece in the Contemporary Realism style.
6. Greek Head and Blue Dress

López García's early paintings, such as Greek Head and Blue Dress and The Lamp, are characterized by their ability to evoke a sense of weightlessness and capture the warmth of diffuse oldenhour light. The artist also has a penchant for seemingly ordinary subject matter and a desire to make us see the beauty in the everyday, as in Sink and Mirror. His large-scale, panoramic views of Spanish cities look almost photo-realistic from afar, but when viewed in detail, one sees brushstrokes, shapes, and colors that are impressively impressionistic, geometric, and abstract.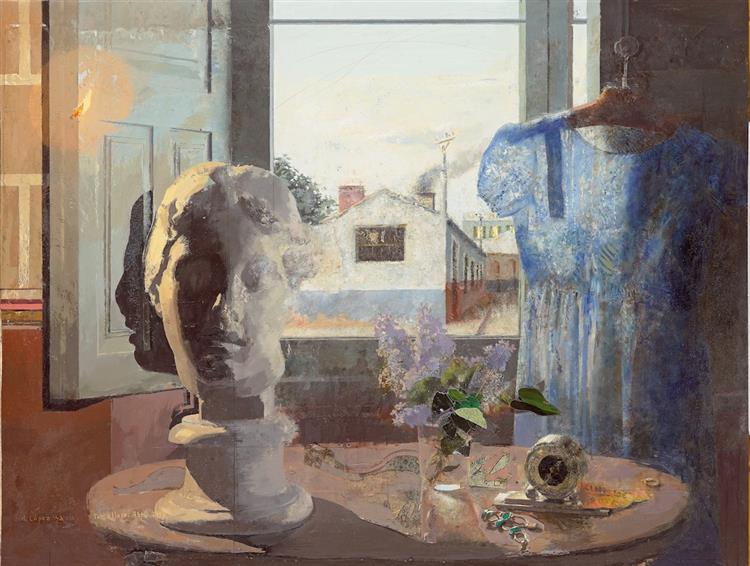 7. Artists Working
The painting, "Artists Working" was created by Antonio Lopez Garcia in the Contemporary Realism style. This painting features a group of artists in a studio, working on their paintings. The artist has used a variety of colors in this painting, which makes it very eye-catching.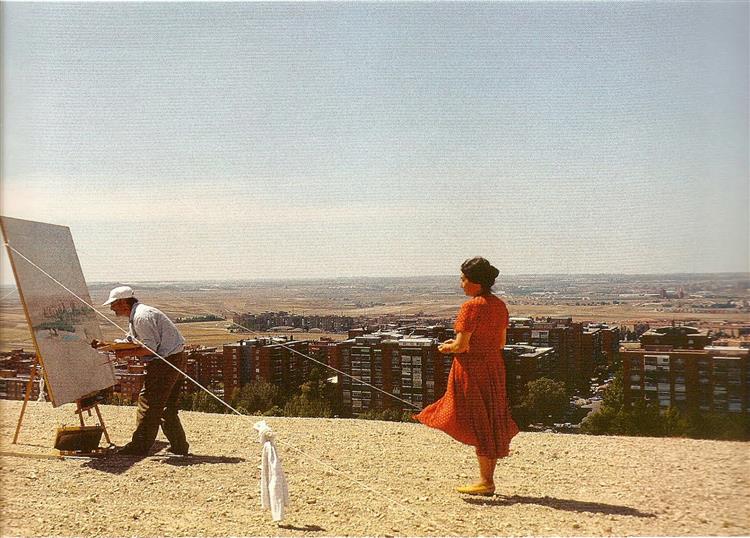 We can't paint like Leonardo da Vinci anymore because we live in the 20th century; I don't paint like I used to, or like other painters who emphasize subjectivity. Because I feel like I understand the world less and less. Reality is so complex, there are so many mysterious things, things that can't be seen, or that can't be seen at first glance. Sometimes you feel it but you can't catch it. But at least what you see can be caught, and the more accurately you catch it, the more likely you are to express the non-material reality of the mystery that you can't clearly identify.--Antonio López García
During most of his career, Antonio López García worked in an artistic culture dominated first by abstraction and later by conceptual art. In the 1960s and 1970s, his prestige grew. His work can be linked to new European figurative tendencies or American hyperrealism. I really like the part that Antonio López García adds Surreal elements into his artwork, making the hyperrealism more vivid.