Important indicators of the contemporary art world - I admire the work of Jeff Koons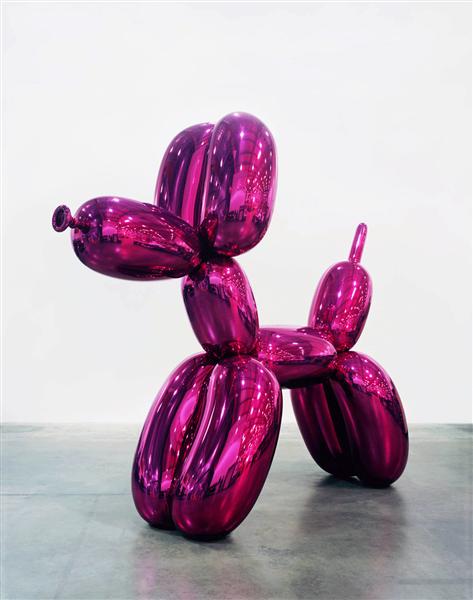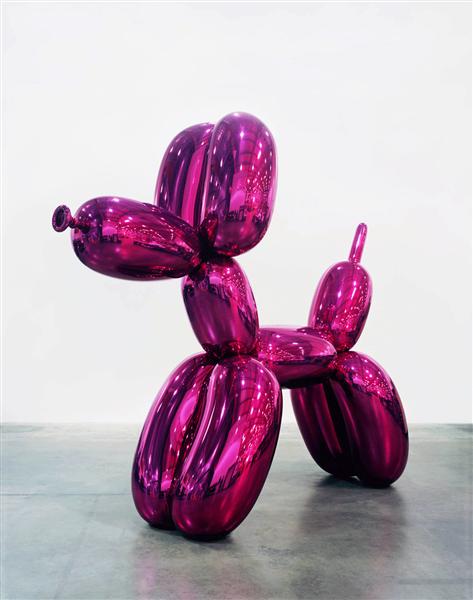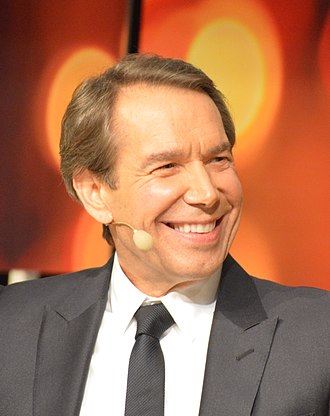 Jeffrey Lynn Koons
Jeff Koons is one of America's most popular contemporary artists. His Neo-Pop aesthetics and wry appropriations of consumer objects, express a reverence for popular culture. "I try to create work that doesn't make viewers feel they're being spoken down to, so they feel open participation," the artist has explained. He is perhaps best known for his oversized sculptures of kitschy souvenirs, toys, and ornaments that are bright and shiny, as seen in his Celebration (1994–2011) series.

With his choice of materials, Koons lends a heft and permanence to otherwise ephemeral items. Born on January 21, 1955 in York, PA, the artist studied at the Maryland Institute College of Art and the School of the Art Institute of Chicago before moving to New York in the late 1970s, where he initially made a living as a stock broker on Wall Street. He rose to fame in the 1980s, developing iconic works such as Michael Jackson and Bubbles (1988), the Made in Heaven (1990–1991) series, and Puppy (1992), which has been installed in Sydney Harbour, Bilbao, and the Palace of Versailles.

Always seeking new outlets for his creativity, in 2017, Koons teamed up with the luxury brand Louis Vuitton to produce an edition of bags printed with iconic European paintings. In 2019, his Rabbit sold for a record-breaking $91.1 million at Christie's auction house, making him the most expensive living artist at the time. The artist's works are held in the collections of the Art Institute of Chicago, the Whitney Museum of American Art in New York, the Tate Modern in London, and the Stedelijk Museum of Modern Art in Amsterdam, among others. He currently lives and works in New York, NY.
---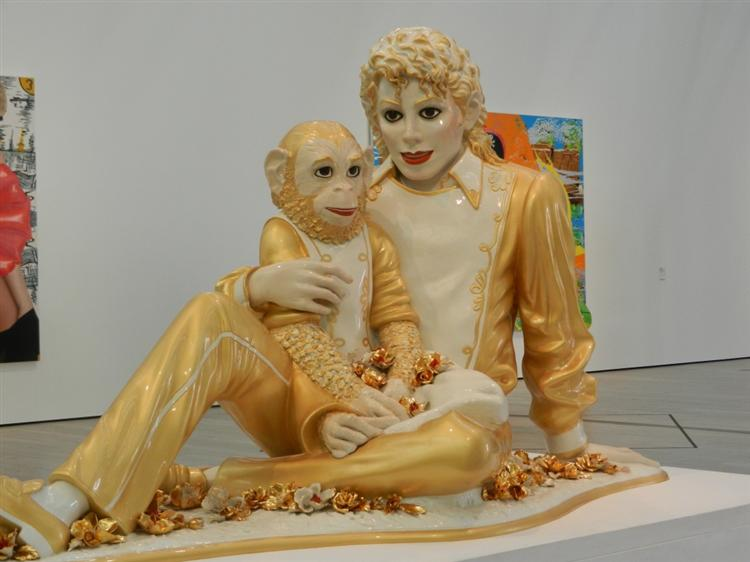 Michael Jackson and Bubbles
Bubbles was Jackson's domestic animal who was bought by the artist from a Texas research facility in 1983. It has been claimed by the media that he was Jackson's best and faithful friend who even joined the singer on his world tours and helped in the household.Jeff Koons used a press photo of Jackson and Bubbles as a template for his sculpture. It is almost identical to the artist's work except for a slight variation of the posture. Koons changed Jackson's direction of view and thus adjusted the composition to the requirements of a sculptural work which has to take into account many different viewing angles.
At the time the sculpture was created, Jackson had already become a world-famous performer. Having achieved a sales record with his album Bad, he was at the pinnacle of his career. Koons artwork can be read as a comment on the great media interest that has been directed at Jackson's life as musician and as a private person.
---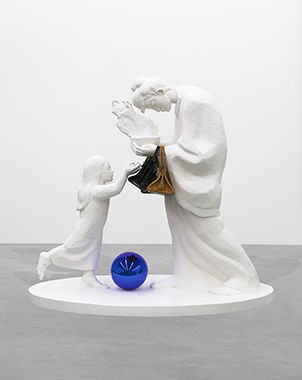 Gazing Ball (Charity)
The Albright-Knox was recently presented with an exclusive opportunity to exhibit a new work by Jeff Koons (American, born 1955), who is recognized for his dynamic and sometimes provocative sculptural practice. Koons made Gazing Ball (Charity) for a 2014 auction to benefit Project Perpetual, an organization that advocates for children identified as high-risk by the United Nations Foundation. Often inspired by the history of art, Koons directly based this sculpture on a painting by one of his major artistic influences: Pablo Picasso (Spanish, 1881–1973). La Soupe, 1902, was created at the height of Picasso's Blue Period and depicts a little girl reaching for a steaming bowl of soup held by a second figure, possibly her mother. Alternately, this image may be read as the little girl having just handed the woman a bowl of soup.

In either interpretation, the painting's subjects are want and compassion for the impoverished and hungry. The formal relationship between Picasso's colorful painting (on loan to the museum for this installation) and Koons's pristine plaster sculpture is strikingly clear, yet significant differences remain.

Koons augments Picasso's imagery with three Hermès Birkin bags and a blue gazing ball—the latter a reference to the mirrored ornaments frequently found on suburban neighborhood lawns, including those around Koons's childhood home in Pennsylvania. With the inclusion of the bags, which were donated to the artist, Koons contrasts the prevailing mood of deprivation in La Soupe with one of today's supreme symbols of affluence.
---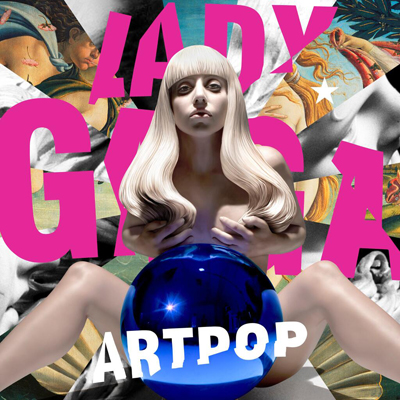 Lady Gaga's ARTPOP album cover
In her ARTPOP single "Applause," Lady Gaga sings, "One second I'm a Koons, then suddenly the Koons is me," a statement about mingling art and pop and transcending the bonds of genre definition. In creating the artwork for her upcoming record, American artist Jeff Koons was dealing with transcendence as well, casting Gaga in a variety of metamorphic roles in a single image.
"With the cover, I wanted to have Gaga there as a sculpture, as a three-dimensional type of form and with the gazing ball, because the gazing ball really does become kind of the symbol for everything -- and this aspect of reflection that when you come across something like a gazing ball, it affirms you, it affirms your existence and then from that affirmation, you start to want more. There's a transcendence that takes place and eventually it really leads you to everything. So that aspect's there."
---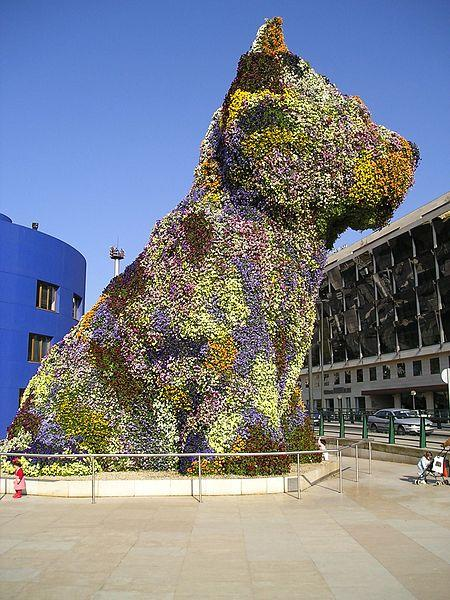 Puppy
Puppy is made out of a varies of flowers, and new flowers were planted each time the sculpture was reinstalled in a new location. Koons choice to use flowers in his sculpture was a conscious decision and ultimately makes up the meaning behind it. The material an artist uses has a lasting effect on the art, from the moment of the creative process to the impact it has on the viewer. The interpretation by the viewer is personal, yet the material contributes a great deal to the meaning proposed by the artist.
Specifically, to Koons work, Puppy is made out of flowers to spread optimism, confidence, and security with the vibrancy and happiness it brings. Koon combined the most sentimental visual images and symbols - flowers and puppies - to elicit a specific emotion from his viewers. He combined elite references of topiary and dog breeding from his earlier work, with chia pets and hallmark greeting cards used in popular culture today.
---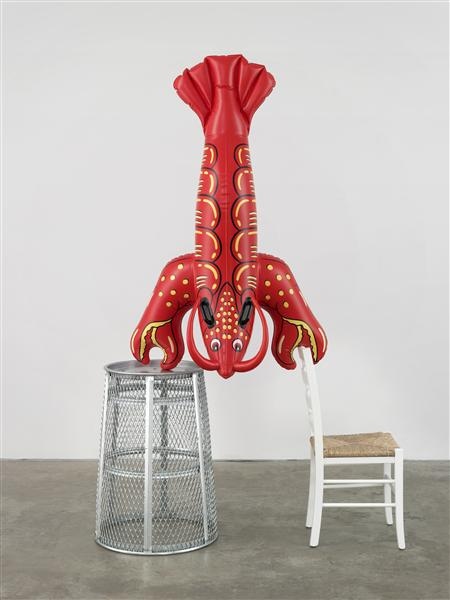 Acrobat
What Jeff Koons've always enjoyed about "Acrobat" (2003-2009) is its performance aspect. The lobster is displaying its acrobatic skills while revealing all the polarities that we observe in the world and ourselves. Who is the performer, and who is the audience; are they interchangeable?
Christie's online selling exhibition of large-scale sculpture, opening now through Sept. 30, will be highlighted by two pieces by Jeff Koons, whose works sell for the highest amounts of any living artist in the world.
Acrobat, created by the 66-year-old Koons in 2003-09, is a red-colored lobster that pays tribute to Salvador Dali's 1936 Surrealist work the Lobster Telephone. Made with polychromed aluminum, galvanized steel, wood, and straw, it is also among the colored inflatable pool toys and balloon animals Koons is best known for.
---