JoJo's Bizarre Adventure! Different varieties of works by Hirohiko Araki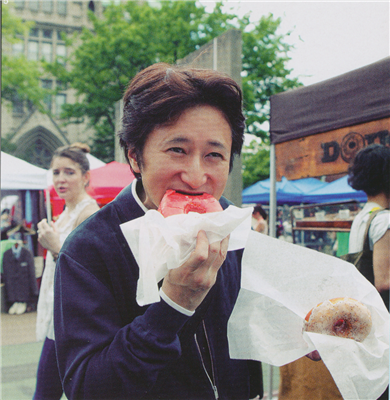 Hirohiko Araki is a Japanese manga artist who made his debut under the name Toshiyuki Araki in 1980 with his one-shot Poker Under Arms. He began his professional career with the short series Cool Shock B.T., Baoh, and The Gorgeous Irene. Araki is best known for his long-running series JoJo's Bizarre Adventure, which was first published in Weekly Shōnen Jump in 1987. JoJo's Bizarre Adventure has sold over 100 million copies in Japan alone and is known for its frequent references to Western rock music and Italy, both of which Araki is reportedly very fond of.
Araki drew the cover for the September 2007 issue of Cell, which featured a ligase represented as one of his Stands. In 2008, he drew the cover art for a collection featuring Yasunari Kawabata's short story "The Dancing Girl of Izu". He also drew the cover for the limited edition of Base Ball Bear's "Breeeeze Girl" single, which actually takes an image from the JoJo manga.
In 2009, Hirohiko Araki was one of five artists selected by the Musée du Louvre to create an original work set at the famous museum. His piece, Rohan at the Louvre, starred JoJo's Rohan Kishibe and was shown at the exhibit titled Le Louvre invite la bande dessinée ("The Louvre Invites Comic-Strip Art"), which was created to show the diversity of comics, from January 19 to April 13.Rohan at the Louvre was highly praised. The following year, Rohan at the Louvre was published in France and ran in Japan's Ultra Jump. It was released in the US by NBM Publishing in February 2012.
---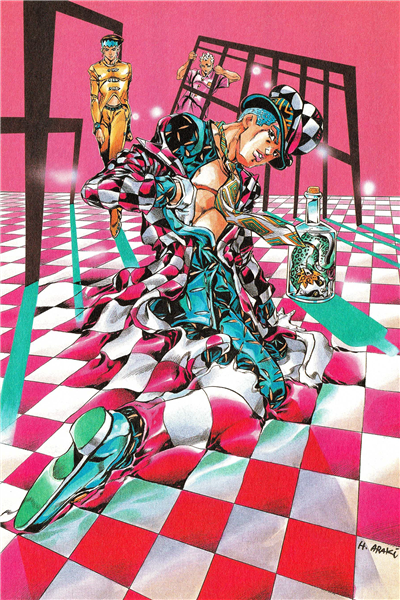 Under Execution Under Jailbreak,(2015)
Hirohiko Araki's short story collection, Under Execution Under Jailbreak, was adapted into a theatrical production that ran from November to December 2015. The volume contains seven chapters with four unrelated stories.
It is a chapter about featuring a prisoner trying to escape from a strange jail full of deadly traps. The prisoner's jail cell is actually the execution room. After he is severely wounded, he discovers a hole in the wall, which is his only chance to escape. However, he is too scared to try going through it.
---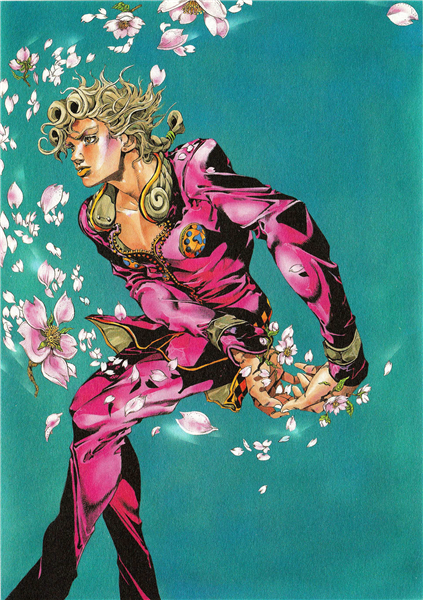 Gold Experience Strikes Back,(1997)
Gold Experience Strikes Back is the eighth volume of Vento Aureo and the fifty-fourth volume of the JoJo's Bizarre Adventure manga. The Baby Face story arc is covered in this volume.
Of all Araki's possessions, the domestic appliance he has had for the longest time is a mixed oven-toaster. Araki got it for free from a friend who bought the toaster in 1978 under the pretense that it was battered, and it came with them when they left their hometown to go to the capital in 1984. Granted it's messed up, but Araki has used it for 13 years. It hasn't shown any deficiency either. An old style spring timer, no useless functions; it's easy to toast bread with it. It's orange and tasteless, but since it's really helpful, Araki figured he'd talk about it.
---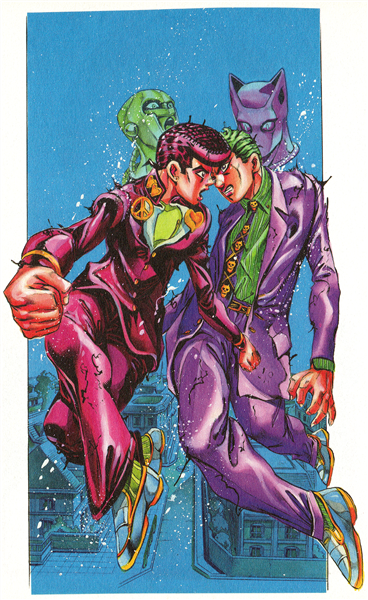 Crazy Diamond is Unbreakable,(1996)
This manga is also known as "Crazy D (Diamond) Is Unbreakable",which is the twenty-eighth and final story arc in Diamond is Unbreakable. It is the story of the climactic battle between Josuke and Yoshikage Kira, whose combination of Killer Queen and Stray Cat gives Kira a great advantage.
This is a story about Kira,a difficult adversary, because of being able to use Stray Cat's aerokinesis to create invisible air bombs. Kira defeated Okuyasu by making his body explode on contact, forcing Josuke to decide whether to try to heal Okuyasu or to attack Kira. Hayato saved Josuke by setting off Okuyasu's bomb himself, and then Josuke used Crazy Diamond to put Okuyasu back together and resumed fighting Kira. Josuke tricked Kira by making a fake radio call, which caused Kira to direct an air bomb at Yoshihiro's photograph. Without the ability to accurately attack Josuke, Kira was defeated when glass shards stained with Josuke's blood hit him through Crazy Diamond's restoration abilities.
---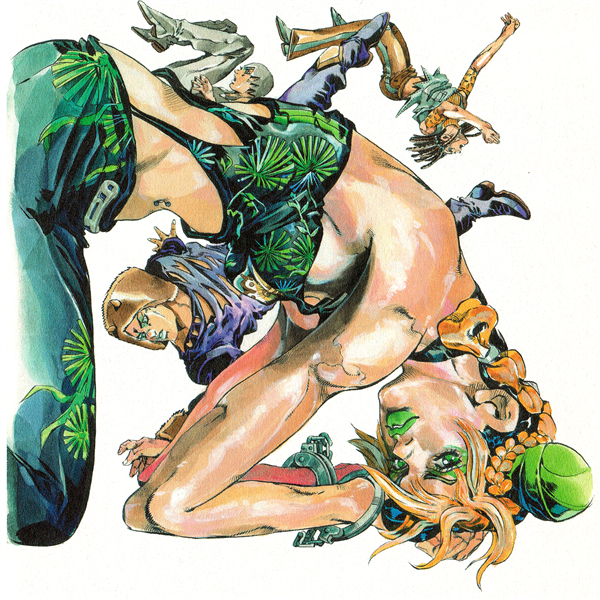 Flash Flood Warning,(2001)
The tenth story arc in Stone Ocean is the Flash Flood Warning. In this arc, Jolyne continues her attempt to deliver Star Platinum's DISC to her contact from the Speedwagon Foundation. However, Whitesnake intervenes to stop her. Enrico Pucci is hidden nearby.
Pucci recalls to DIO, his closed friend, a conversation , over a way to get to heaven. DIO tells him that he had written the instructions down in a notebook. However, just a year later, DIO was defeated by Jotaro Kujo, who found the notebook, and in order to prevent anyone from learning of its contents, he burned it to ashes. Now, thanks to his Stand, Whitesnake, Pucci was able to steal Jotaro's memories along with the invincible Stand that defeated The World. The Stand Disc containing Star Platinum was taken back by Jolyne Cujoh, and is about to be returned via the Speedwagon Foundation in the prison courtyard.
---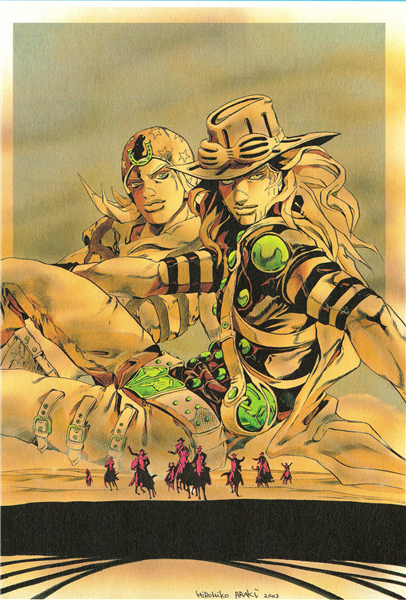 San Diego Beach - September 23, 1890 - 2 Days to Start, Part 3 (2003)
The Steel Ball Run is a horse race that will take place in the USA, starting in San Diego and ending in New York, at the end of the 19th century. With a length of more than 6,000 km, the reward for the winner turns out to be worth it: 50 million dollars. The participants come from all walks of life (England, Egypt, Mongolia...) and all have their own motivation, like this jockey in search of glory or the young Indian who wants to recover his land from the white invader. But Gyro Zeppeli seems to be competing for far more mysterious reasons, armed with strange steel spheres.
---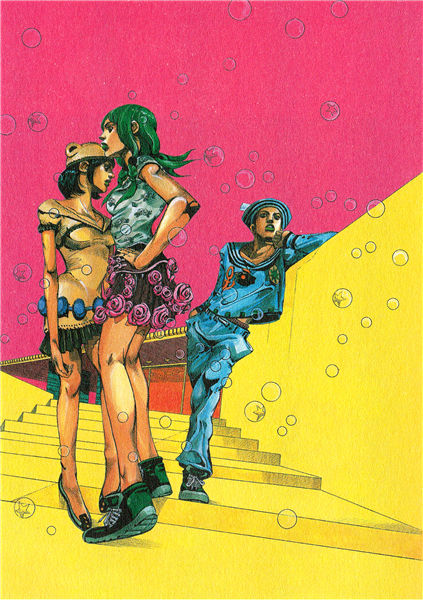 The Secret of the "SBR Race Complete Record",(2012)