4 Abstract Images By Amy Feldman Catch Our Eyes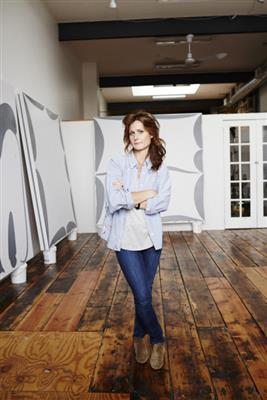 Amy Feldman is an American abstract painter from Brooklyn, New York. She received a BFA degree in painting from the Rhode Island School of Design in Providence, Rhode Island in 2003.
She then attended Rutgers University in New Brunswick, New Jersey where she received an MFA in Painting in 2008. She subsequently attended the Skowhegan School of Painting and Sculpture for a nine-week residency in 2009.
Feldman is the recipient of a Guggenheim Foundation Grant (2018) and Joan Mitchell Foundation Grant (2013). Feldman's work has been shown in galleries and museums since 2008. Her work is planned, casual and spontaneously painted with loosely geometric, graphic gestures in whites to dark grays on various whites to gray grounds.
The paintings of Feldman are characterized by a stark contrast between figure and ground. This contrast is initially arresting, but upon further inspection it becomes clear that the paintings are exploratory and meditative.
Feldman's paintings are often anthropomorphic and darkly humorous, with psychologically charged imagery. Her stripped down abstract sign system addresses, among other things, topology, morphology, and the perception and transmission of information.
Feldman's work is in the permanent collections of the Museum of Contemporary Art in Chicago, the Sheldon Museum of Art in Lincoln, Nebraska, the Hall Art Foundation | Schloss Derneburg Museum in Derneburg, Germany, and the Vanhaerents Art Collection in Brussels, Belgium. She lives and works in Brooklyn, New York.
---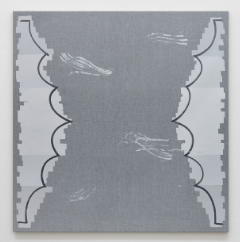 Goodnight Light, 9.10 – 11.26, 2022
Galerie Eva Presenhuber is pleased to present Goodnight Light, the gallery's first Zurich exhibition with the New York-based American painter Amy Feldman. Feldman's exhibition Mothercolor last year at the gallery's New York space featured variously-scaled gray paintings highlighting her unique visual language. The paintings included silkscreen elements, as well as the artist's own fingerprint touches with thick paint. This novel addition of tactility, an urgent act of the hand, signals the artist's duello with the physical and formal aspects of abstract painting.
Feldman's recent works feature enlarged, exaggerated facsimiles of raw canvas over pristine gray fields. In this presentation, Feldman introduces a moiré effect within her printed fields, furthering her relationship with tonalities and her conversation with the viewer.
Imbuing the paintings with a reverberating—almost mercurial—finish, this coloring on the surfaces signals an exploration of both light rays and light's absence. "On first inspection, the viewer might not initially notice the printed ground and assume my paintings have rough surfaces," Feldman says. "The illusion becomes clear when the work is examined up close. I am excited by this moment, the viewer's suspension of disbelief, when they acknowledge their own capability to accept fiction as fact." The artist attributes this interaction to "a moment of instability when the notion of truth feels subjective—feels gray."
---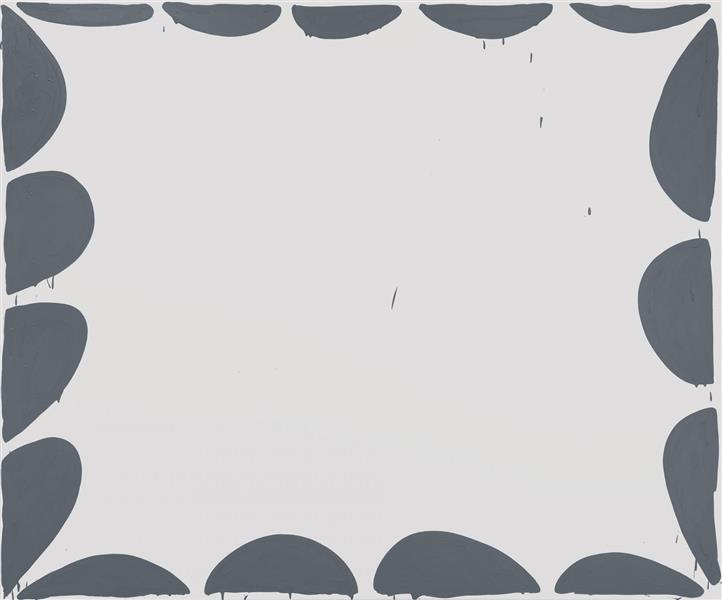 Bliss Abyss,2015
Amy Feldman's paintings are definitely formalistic. They feature big, bold shapes that seem to be in motion, and they contrast sharply with the white backgrounds they're set against. Feldman's use of gray and white is what sets her paintings apart from those of other contemporary artists, and it's also what makes her work so difficult to categorize.
Feldman's work is simple and strong, with a clear contrast that activates the ground. Expressive shapes that look like letters or cartoons drive her unique, psychologically charged language. The shapes can be humorous at times, as are her titles. The compositions reflect the artist's active drawing practice, functioning as a "rehearsal" of sorts, a preparation for the work on the canvas, which has no second acts.
---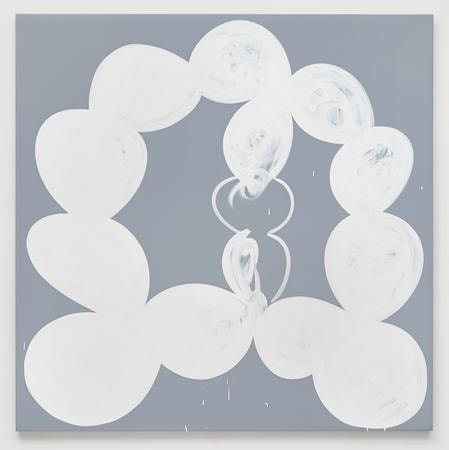 Goofy Gloom,2017
The shapes in her paintings are intentionally anthropomorphic and emotionless. By referencing the artist's personal history and body, these shapes become symbols of common anxiety. This is shown by the intense tensions between figure and ground, image and edge.
Feldman's titles make the paradoxes in the work more obvious. They are full of rhyme, word play, and puns that contrast with the seriousness of the canvases, and they criticize the masculine heroism of midcentury abstraction.The paintings envelope the viewer in the fantastic schematics of Feldman's imagination, commanding introspection and meditating on paintings' potential to distill human experience.
---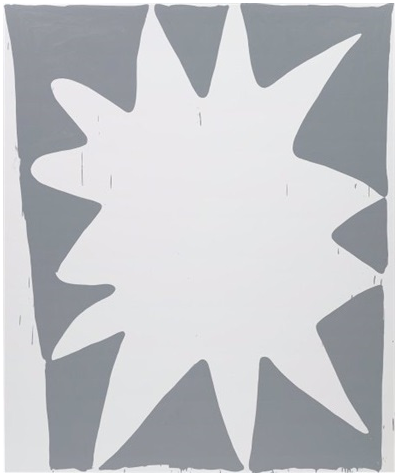 POW! NOW, 2013
"With simple and strong contrast, Feldman's forms activate the ground, dispelling any metaphors of the mechanical. Expressive, letter-like cartoon and carnal shapes drive Feldman's unique, psychologically charged language. The rigorous simplicity of the work embraces the fundamental elements of painting, a barebones approach of all or nothing, without revisions or second layers." ── by Mary Jones.
Feldman's work is focused on the relationship between figure and ground, and the space between them. She is interested in highlighting the areas between figure and ground that might be ignored, which is embodied in the drips. The drips are accidental, but she sees them as integral to the overall image structure.
---